Tag Archives:
28 days later
It's got to be one of the coolest names ever for a group:
The Kansas Anti Zombie Militia.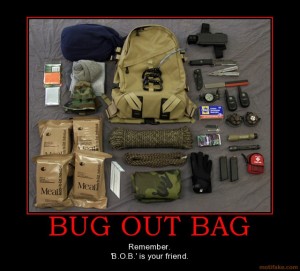 But the group is real and its members are pretty serious about it.
Once the Zombie Apocalypse hits, they'll be ready for it and they want you to be too.
"Can a natural person change into this monster that many fear?" Alfredo Carbajal, the militia's main spokesman, said in an interview. "The possibilities are yes, it can happen. We have seen incidents that are very close to it, and we are thinking it is more possible than people think."
Carbajal and other true believers aren't so much scared of movie zombies. The apocalypse they see coming is a pandemic spread by a virus that creates zombie-like symptoms.
Last month, the Discovery Channel featured the Kansas militia in a documentary that concluded that such a Zombie Apocalypse — or Zompoc — was possible. The program featured scientists who speculated some evolving virus is bound to jump to humans on our overcrowded planet.
Of course, scientists have been warning about pandemics such as bird flu that don't produce zombies, but zombies are the hot monsters right now.
A packed house listened last year at St. Mary's College of Maryland as a chemist, psychologist and student acknowledged the possibility of an epidemic, according to the school's newspaper.
The panel pointed out that there already have been zombie-like symptoms dating back to 1594; they were eventually determined to be the first recorded human case of furious rabies — an especially serious form of rabies.
Carbajal, 28, didn't start out as a zombie fighter.
He and several friends grew up in Wamego, home of the Oz museum, watching zombie movies like "Shaun of the Dead," "28 Days Later" and "Night of the Living Dead" and playing video games like the Left 4 Dead video game series.
The friends designed a web page for fun but then they began wondering what to do if there was actually a zompoc, and their thinking turned serious.
The group has five founders but about 1,500 likes on its Facebook page.
It's not all zombie crusading; the militia also sponsors a Zombie Walk in October to raise money and food for charities.
But the group's website points out that the militia is committed to research and preparing for a zompoc.
"We are not crazy. We are not paranoid. We believe in preparedness in any situation," it says.
Everything you need to know about surviving a zombie attack can be found on the militia's website — never take on a small horde of zombies by yourself because that would be suicide, and make sure all your skin is covered because blood spatters can be infectious.
Blunt objects are better to use than, say, knives because blades tend to dull after each use. A metal bat and a collapsible baton are the two most recommended weapons.
The site also notes as "a real-life threat to humanity" a biosecurity lab planned near Manhattan, Kan.
Carbajal and his group are not alone in their deep fascination over zombies. Much of the country has been touched.
The "Walking Dead" cable series broke basic cable ratings records with more than 10 million viewers for the first show of season three. And already hype for a movie, based on the book "World War Z," is widespread even though its release date is six months out.
How-to books have been published in recent years, including the "Zombie Survival Guide," which made the New York Times Best Seller List, and the "Zombie Combat Manual," which warns "During a zombie outbreak, 98% of individuals will have to destroy an undead opponent without the aid of a firearm. Will you be ready?"
Carbajal said that if you aren't a true believer, just being prepared for any apocalypse or natural disaster is a good thing.
"My thought is if you are ready for zombies, you are ready for anything, whether it be natural disasters, fall of government, invasion from another country — the possibilities are endless," he said. "The point is to keep yourself and your loved ones safe."
Others agree.
Using the guise of a zombie apocalypse, the Centers for Disease Control and Prevention and state emergency management agencies are trying to get people to be prepared for a natural disaster with at least several days of food and supplies, copies of important documents and a plan.
"It's a spoof; we are not encouraging a zombie scare," said Devan Tucking-Strickler, Kansas Division of Emergency Management spokeswoman. "We use the tagline, 'If you are prepared for zombies, you are prepared for anything and prepared for the unexpected.' "
Kansas even used the militia to help promote general disaster awareness.
Members of the group were featured in a photograph with Gov. Sam Brownback when he signed a proclamation declaring October as Zombie Preparedness Month in Kansas.
A little preparation for disaster can prove very important later, but most people don't prepare, said another viral disaster worrier, Shawn Beatty, who also was featured on the Discovery documentary.
"You can get a first aid kit for $100, something that you should have in your house anyway, or you can go to dinner, take a trip, or have a really nice night out with that $100," said Beatty, a public-school teacher in Columbia. "Who is going to say, 'Let's go buy something that you may not use?'
'I hereby resolve to kill every vampire in America" writes the young Abraham Lincoln in the best-selling 2010 novel "Abraham Lincoln: Vampire Hunter." Honest Abe doesn't quite make good on his promise, and the grim results are all around us. Today, vampires spring from the shadows of our popular culture with deadening regularity, from the Anne Rice novels to the Twilight juggernaut to this year's film adaptation about the ghoul-slaying Great Emancipator. Lately we've also endured a decadelong bout with the vampire's undead cousin, the zombie, who has stalked films from "28 Days Later" to "Resident Evil" (the next sequel of which is due out this fall) and the popular TV show "The Walking Dead."
Purists will hold forth on the differences between vampire and zombie, but the family resemblance is unmistakable. Both are human forms seized by an animal aggression, which manifests itself in an insatiable desire to feed on the flesh of innocents. (Blood, brains, whatever; it's a matter of taste.) Moreover, that very act of biting, in most contemporary versions of both myths, transforms the victims into undead ghouls themselves.
Our vampires and zombies (as well as such poor relations as werewolves) all serve as carriers for vaguely similar saliva-borne infections. These mythical contagions are especially odd because they have so few analogues in the natural world. Indeed, there is really only one: the rabies virus.
A fatal infection of the brain, rabies is particularly devastating to the limbic system, one of the most primitive parts of the brain. Fear, anger and desire are hijacked by the virus, which meanwhile replicates prolifically in the salivary glands. The infected host, deprived of any sense of caution, is driven to furious attack and sometimes also racked with intense sexual urges. Today we know that most new diseases come from our contact with animal populations, but with rabies this transition is visible, visceral, horrible. A maddened creature bites a human, and some time later, the human is seized with the same animal madness.
Known and feared for all of human history—references to it survive from Sumerian times—rabies has served for nearly as long as a literary metaphor. For the Greeks, the medical term for rabies (lyssa) also described an extreme sort of murderous hate, an insensate, animal rage that seizes Hector in "The Iliad" and, in Euripides' tragedy of Heracles, goads the hero to slay his own family. The Oxford English Dictionary documents how the word "rabid" found similar purchase in English during the 17th century, as a term of illness but also as a wrenching state of agitation: "rabid with anguish" (1621), "rabid Griefe" (1646).
The roots of the vampire myth stretch back nearly as far. Tales of vampire-like creatures, formerly dead humans who return to suck the blood of the living, date to at least the Greeks, before rumors of their profusion in Eastern Europe drifted westward to capture the popular imagination during the 1700s.
In its original imagining, though, the premodern vampire differed from today's in one crucial respect: His condition wasn't contagious. Vampires were the dead, returned to life; they could kill and did so with abandon. But their nocturnal depredations seldom served to create more of themselves.
All that changed in mid-19th century England—at the very moment when contagion was first becoming understood and when public alarm about rabies was at its historical apex. Despite the fact that Britons were far more likely to die from murder (let alone cholera) than from rabies, tales of fatal cases filled the newspapers during the 1830s. This, too, was when the lurid sexual dimension of rabies infection came to the fore, as medical reports began to stress the hypersexual behavior of some end-stage rabies patients. Dubious veterinary thinkers spread a theory that dogs could acquire rabies spontaneously as a result of forced celibacy.
Thus did rabies embody the two dark themes—fatal disease and carnal abandon—that underlay the burgeoning tradition of English horror tales. Britain's first popular vampire story was published in 1819 by John Polidori, formerly Lord Byron's personal physician. The sensation it caused was due largely to the fact that its vampire, a self-involved, aristocratic Lothario, distinctly resembled the author's erstwhile employer.
But Polidori's Byronic ghoul only seduced and killed. It took until 1845, with the appearance of James Malcolm Rymer's serialized horror story "Varney the Vampire," for the vampire's bite to become a properly rabid act of infection. For the first time readers were invited to linger on the vampire's teeth, which protrude "like those of some wild animal, hideously, glaringly white, and fang-like." And at the long tale's end, Varney's final victim (a girl named Clara) is herself transformed into a vampire and has to be destroyed in her grave with a stake.
Both these innovations carried over into the most important vampire tale of all, Bram Stoker's "Dracula." In Stoker's hands, the vampire becomes a contagious, animalistic creature, and his condition is properly rabid. It is a lunge too far to claim (as one Spanish doctor has done in a published medical paper) that the vampire myth derived literally from rabies patients, misunderstood to be the walking dead. But it is clear that this central act of undead fiction—the bite, the infection, the transferred urge to bite again—has rabies knit into its DNA.
Over time, the vampire's contagion infected his undead cousin, too. The original zombie myth, as it derived from Haitian lore, also involved the dead brought back to kill, but again without contagion—an absence that carried over to Hollywood's earliest zombie flicks. In this and many other regards, the most influential zombie tale of the 20th century was nominally a vampire tale: Richard Matheson's 1954 novel "I Am Legend," whose marauding hordes of contagious "vampires," victims of an apocalyptic infection, set the whole template for what we now think of as the standard zombie onslaught.
Since then, as Hollywood has felt the need to conjure ever more frightening cinematic menaces, the zombie has if anything grown increasingly rabid. The antagonists in Matheson's novel can, at times, carry on an intelligent conversation with a normal human. By the 2007 film adaptation, starring Will Smith, the infected are howling, lunging, senselessly hateful animals inside a human form. Danny Boyle, the director of "28 Days Later," has said outright that he modeled his zombie virus on rabies. But even if he hadn't consciously done so, the name he gave that virus—"Rage"—already draws its power from the same centuries-old supply.
Westerners don't have much cause to fear death from rabies these days. Thanks to the availability of vaccine, human fatalities in the U.S. have dropped to a handful per year; Britain got rid of the virus entirely in 1902, succeeding in just the sort of national eradication project that apparently stymied the vampire-slaying Abraham Lincoln. Yet the infected bite, the human turned animal aggressor, menaces us as often as ever on our flat screens and nightstands.
Rabies itself may be a distant concern, but the rabid idea, like Varney the vampire, still has teeth—and it still succeeds in spreading itself.