Tag Archives:
emergency situation
What is a Bug Out Bag?
A bug out bag is a bag (or several) that is supposed to last you for at least 72 hours. The original term was derived from the term 'bail out bag' used by many military aviators. The idea soon passed into wide usage among other military and law enforcement.
A bug out bag is to contain items for both leaving an emergency situation as well as going into an emergency situation.
A bug out bag is not required in order to survive, but it is HIGHLY RECOMMENDED!
So where to start?
First things first, you need to determine what the bug out bag is going to be used for. In this case, we're going to be building a bug out bag for the zombie apocalypse. There are many different types of bug out bags, which means you can have one bag designated for a specific circumstance, such as a fire, earthquake, flood, etc.
But, we're just going to stick with making one for the zombie apocalypse, since that's what we do best! Which also means, that we're going to be recommending items that are meant to last for a long time, instead of just 72 hours.
You'll need a sturdy backpack. Hikers backpacks are always a great item, since they're meant for durability. But make sure it's not a cheap backpack, out of everything, this is the item that you'll want to spend a bit of money on. Because this backpack will basically be carrying your basics for survival – so get a quality backpack!
What items should I include?
Now here's the fun part! We'll recommend several items that we believe you should include in your bug out bag, but don't take us word-for-word. While these items are highly recommended, you may find that something else works better for you.
1. Containers: Having several containers at your disposal will be extremely useful. These containers can be anything from, water bottles, little kettles, water proof tupperware, etc. When choosing your containers, make sure that you can fit other stuff within the container, that way the container serves multiple purposes. So find random little containers to carry in your pack.
2. Water: This should be a no brainer but the water that you carry with you isn't going to last forever. You need to find ways to purify water. Such as a little pot to boil water. Or purification tablets. Or even a mini water purifier that they sell at any outdoors store. Whatever you choose, make sure it's durable and will last for at least several weeks.
3. Food: Canned foods are NOT GOOD! They are bulky and heavy, which will slow you down. One of our members has a bunch of dried foods in zip lock bags that were full of calories and carbohydrates. You want foods that will fill you up quick and give you energy. MRE's are also good if you can get your hands on them. You should also invest in some fishing wire and hooks, so you can fish for your food.
4. Shelter: The 'space' blanket is a favorite of most, and it's a good choice. Also, poncho's and poncho liners will be incredible for the cold. With either the space blanket or poncho, you can throw those on around you, light up a little fire inside your poncho and you'd be toasty warm! Plus you'd be protected from getting wet. Finding something that is lightweight and durable will be a shelter lifesaver. A hammock might not be a bad idea, either, since they are generally lightweight and you can string them up practically anywhere.
5. Fire: We don't recommend flashlights, although they can be great for the first 72 hours, unless you have 100 different flashlights and batteries to go with them (which is impractical to begin with) then you're going to need an alternative for flashlights. Glow sticks are a great alternative. So is flint and steel. Remember, zombies are attracted to light, so we recommend getting used to the dark and ONLY using fire and light when you're cooking or need to read a map or compass. Candles and water-proof matches are also a good idea.
6. Weapons: Ah I bet you were just WAITING for this section, weren't ya? We're not going to recommend individual weapons, that's based on personal preference. But instead, just make sure you have enough bullets to get you through for a while and MAKE SURE to use them sparingly. You never know when you'll come across more ammo, so only shoot when your life depends on it. Also have a few melee weapons available, like knifes, axes, machete's and such, if not for fighting, then definitely for small game hunting, skinning fish, etc. Find weapons both for survival and for defense.
7. Rope & tape: We recommend 550 cord. It's the toughest and most long-last rope you'll ever need or want. We also recommend carrying some duct tape – cause you never know when you'll need duct tape!
8. Shoes: These don't go in your bug out bag necessarily, but having the proper shoes will go a long way in keeping you sane. If you have a bulky pack on your back and you're having to walk A LOT, then having a good pair of shoes will be a life-saver. Be sure to break the shoes in BEFORE it's time to flee.
9. First aid: Some people are more obsessed with first aid than others. It's at least a good idea to have a few alcohol swabs, bandages, pair of tweezers, tourniquet (or handkerchief), as well as other varied pieces of first aid that you think you may need.
10. Misc: The rest of the items in your bag will depend on personal preference. An extra pair of clothes perhaps (under armor is highly recommended), carabiners, Zombie Response Team patch (coming soon!), a little radio (for the first 72 hours (or until the batteries run out) to hear news about what's going on), a mini solar panel (HIGHLY recommended), a hat (to protect your head from the sun and other elements), gloves, compass, really warm socks, a little sewing kit, deck of cards (never know, you may be bored), a picture of loved ones, etc. The list can go on and on.
That about covers it!
Emergency Survival Kit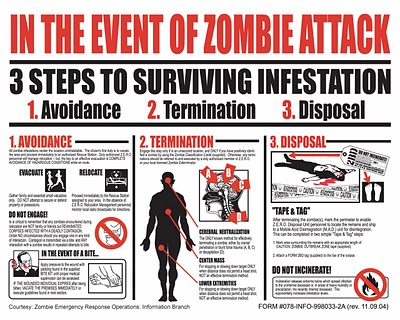 An emergency survival kit is a collection of supplies which have been prepared to aid in the survival of a disaster or emergency situation such as hurricanes, earthquakes, and other natural disasters. A good emergency survival kit contains tools to provide the basic survival necessities such as shelter, food, water, and first aid. It this case we want to prepare a kit specialized for a zombie encounter.
There a few types of survival kits; stashes, mini-kits and bug-out kit. A stash is a large collection of horded food and supplies usually set up for long term use under siege situations. Mini kits hold basic supplies and are designed to fit in small places such as a motor vehicle. Bug-out kits are portable survival kits also known as "Personal Emergency Relocation Kits"; these are used for quick escape and survival for a few days. Bug-out kits usually also contain tools that aid in gathering resources for more prolonged times after limited supplies run out.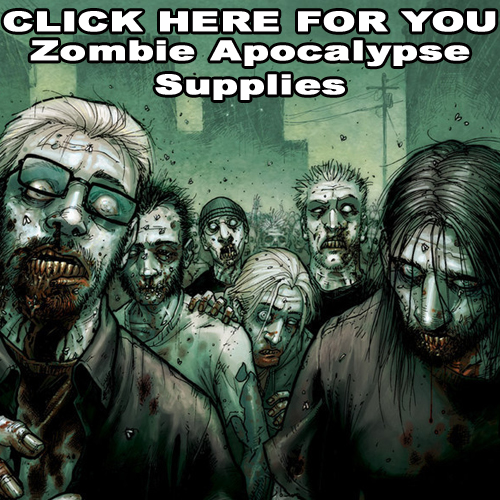 Before creating an emergency zombie survival kit or kits you must ask yourself a few questions: What type of kit should I make? How many people will I be providing for? Where should I keep my kit? How much food and water do need? Where would I go under extreme conditions? ECT… Look at your surroundings. If a zombie outbreak were to happen right now are you in a safe location. This is a great deciding factor for preparing your kit. Think of any situation that could happen and consider preparation for the most probable dangers. What will you need in your kit? Every situation is different for everyone and kits can be modified for specific purposes.
Location matters, it might be smart to keep smaller emergency survival kits in your car or at work. Also you might want to keep different styles of kits depending on your location, for example: If you live in the mountains away from large populations in a fairly zombie proof home you might consider keeping a long term stash. On the other hand if you live in an inner city location in a not so zombie proof home you might want to rely more on a light bug-out kit to get you to a safer location.
---
Basic Tools and Supplies
Before specializing in any type of zombie survival kit for emergency situations it is important to know what items are needed for basic survival. To set up a good survival kit foundation you should know what the most fundamental items needed in almost all disaster situations are. There is a list from the homeland security website;
Recommended Items to Include in a Basic Emergency Supply Kits:
-Water, one gallon of water per person per day for at least three days, for drinking and sanitation
-Food, at least a three-day supply of non-perishable food
-Battery-powered or hand crank radio and a NOAA Weather Radio with tone alert and extra batteries for both
-Flashlight and extra batteries
-First aid kit
-Whistle to signal for help
-Dust mask, to help filter contaminated air and plastic sheeting and duct tape to shelter-in-place
-Moist towelettes, garbage bags and plastic ties for personal sanitation
-Wrench or pliers to turn off utilities
-Can opener for food (if kit contains canned food)
-Local maps
Additional Items to Consider Adding to an Emergency Supply Kit:
-Prescription medications and glasses
-Infant formula and diapers
-Pet food and extra water for your pet
-Important family documents such as copies of insurance policies, identification and bank account records in a waterproof, portable container
-Cash or traveler's checks and change
-Emergency reference material such as a first aid book survival manuals
-Sleeping bag or warm blanket for each person. Consider additional bedding if you live in a cold-weather climate.
-Complete change of clothing including a long sleeved shirt, long pants and sturdy shoes. Consider additional clothing if you live in a cold-weather climate.
-Household chlorine bleach and medicine dropper – When diluted nine parts water to one part bleach, bleach can be used as a disinfectant. Or in an emergency, you can use it to treat water by using 16 drops of regular household liquid bleach per gallon of water. Do not use scented, color safe or bleaches with added cleaners.
-Fire Extinguisher
-Matches in a waterproof container
-Feminine supplies and personal hygiene items
-Mess kits, paper cups, plates and plastic utensils, paper towels-Paper and pencil
-Books, games, puzzles or other activities for children
These items are great for a basic kit. Creating an emergency survival with these supplies would be great for smaller S 1 or maybe even S 2 zombie emergencies. These are usually caused by a low grade zombie and everything is usually controlled and back to normal after a few days. Just board up your windows and doors and wait it out.
In larger zombie outbreaks or outbreaks caused by higher grade zombies, the situation gets dramatically worse. It is unlikely that a small survival kit is enough to handle a large zombie up rising. A larger stash would allow you to last quite a bit longer check out the under siege section for more details. Most likely unless you have a self sustaining fortress you will need to Transport to a safer location.
---
Zombie Survival Kit
Unlike most disasters the biggest difference is that in almost any zombie emergency situation some degree of combat is involved. In order to have the advantage in zombie combat, it is important to have some kind of weapon in your emergency zombie survival kit. As stated before every situation is different and additions to the basic kit should follow the specific situation.
Bug out kits should be kept light considering that some of the time on foot might involve running away from hordes of zombies. If additional clothes are in the kit they should be tight fitting and hair should be short or tied down to prevent being snagged by undead fingernails.
Do research on different types of items and see what is best for your particular situation. Try to get items that are useful in more that one situation. For example an axe is great for chopping wood but it is also good at chopping zombie flesh. A crowbar is a good weapon but can also be used to pull out nails or "jimmy" doors, or even aid in climbing.