Miami zombie cannibal similarity? East Naples man bites nurse, threatens to 'eat faces,' cops say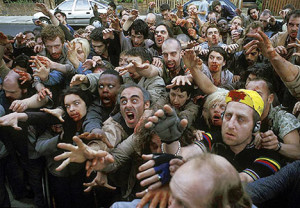 NAPLES, Fla. — After being arrested for DUI, an East Naples man was taken to the hospital, where deputies say he bit a nurse and attacked staff, threatening to eat their faces off and rape their wives.
Giovani Martinez, 21, of the 1700 block of 54th Terrace Southwest, was arrested Saturday by Collier deputies at Airport Pulling Road and U.S. 41.
According to an arrest report, deputies observed a small car traveling at 60 mph in a posted 45 mph zone and failed to stop at a red light.
Deputies said they then conducted a traffic stop on the car and discovered the driver, Martinez, to be intoxicated with a spilled beer in the front seat of the car.
At first, Martinez told deputies that the beer belonged to his sister, but he later admitted that he had a few beers that night, which led deputies to conduct a sobriety test on Martinez.
After failing his sobriety test, Martinez was transported to the Naples jail, where he later became unresponsive, according to arrest reports.
Deputies said they then had Martinez taken to NCH Downtown Naples Hospital, where he became violent with the hospital staff.
During the transfer from the ambulance bed to the hospital bed, Martinez began punching and kicking the staff, according to reports.
Martinez then bit one of the nurse's arms and spit blood in his face as he yelled at them that he would eat their faces, like the guy in Miami, and rape all of their wives, deputies said.
Martinez was referring to an incident over Memorial Day in Miami where 31-year-old Rudy Eugene was found naked and chewing on Ronald Poppo's face. Police shot and killed Eugene when he failed to respond to orders to stop attacking Poppo.
A hospital staff member told deputies that Martinez kicked him in the stomach and another deputy in the head.
Deputies said it took about 20 minutes before they were able to get Martinez secured.
Martinez faces three counts of felony battery on law enforcement officers and EMTs. He also faces a DUI charge.