Tag Archives:
citizens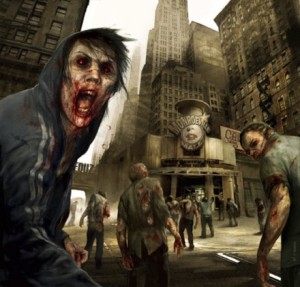 If there's one thing Americans love, it's the zombie apocalypse. I don't know why, really. Although some people think that it would be cool to blow the heads off the undead and attempt to survive in a brutal post-apocalyptic landscape, most people would get their fat asses either gnawed on by zombies or shot by a survivalist looking for supplies. The harsh reality is that most people wouldn't survive the zombie apocalypse, but we can keep dreaming that we're the exception – we're all Rick from The Walking Dead.
This month is National Preparedness Month, and the Department of Homeland Security is capitalizing on the never-ending zombie craze to make people start thinking about what they would do in the event of a disaster.
According to the AP, DHS is urging citizens to prepare for the zombie apocalypse. "The Zombies are coming!" they say.
Except they're not. At least not right now. DHS's message is that if you're prepared for a zombie attack, you'll likely be prepared for a hurricane, pandemic, earthquake, or terrorist attack. That's because all of those events have something in common – the need for shelter, food, water, etc. DHS wants emergency planners across the country to use the "zombie attack" trope to get people into the disaster preparedness mindset.
Of course, this isn't the first time that a government organization has mentioned the z word to citizens. Last year, the Centers for Disease Control actually acknowledged zombies and released their own zombie preparedness guide.
Here's what the CDC says would happen, on a governmental response level:
If zombies did start roaming the streets, CDC would conduct an investigation much like any other disease outbreak. CDC would provide technical assistance to cities, states, or international partners dealing with a zombie infestation. This assistance might include consultation, lab testing and analysis, patient management and care, tracking of contacts, and infection control (including isolation and quarantine).

It's likely that an investigation of this scenario would seek to accomplish several goals: determine the cause of the illness, the source of the infection/virus/toxin, learn how it is transmitted and how readily it is spread, how to break the cycle of transmission and thus prevent further cases, and how patients can best be treated. Not only would scientists be working to identify the cause and cure of the zombie outbreak, but CDC and other federal agencies would send medical teams and first responders to help those in affected areas (I will be volunteering the young nameless disease detectives for the field work).
Even though the CDC clearly has a plan, they officially denied the known existence of zombies after a rash of cannibalism stories hit the news earlier this year.
If you have the money and truly wish to prepare for the zombie apocalypse, you can't go wrong with this kit for the 1%.
Obama is grabbed by some zombies because he had no plan.
Though a recent string of bizarre cannibalism incidents in Miami, Maryland, and Canada does not necessarily indicate that the zombie apocalypse has commenced, it's really only a matter of time until it does. And what then? Amazingly, it doesn't appear that the Obama administration has a plan for dealing with the greatest threat to our nation since terrorist anchor babies.
Luckily, there's a solution. In 2011, the Obama White House created a website,We the People, where the American people can post and sign petitions on any issue they desire. If a petition receives 25,000 signatures within 30 days, "White House staff will review it, ensure it's sent to the appropriate policy experts, and issue an official response."  So today, out of a sense of civic duty, we started a petition calling on the Obama administration to go public with a plan for the zombie apocalypse.
Every government's primary responsibility is the safety of its citizens. And yet the Obama administration has thus far failed to produce a plan for dealing the with the zombie apocalypse which, according to the Internet, could happen at any moment.

What's the protocol for distributing vaccines/machine guns? Where will ragtag bands of uncontaminated, racially diverse strangers find safe haven? If President Obama turns into a zombie, will Joe Biden become president, or will Zombie Obama still be president?

These are just some of the questions that deserve serious consideration from the White House.
Please take a moment of your time to sign the petition and pass it on to others. Your future as a fully sentient human being may depend on it.